Looking for a full suite of whole blood Hematology controls and calibrators for hospitals and clinical laboratories? If so, please visit
R&D Systems
for a full range of products available to meet your needs!
---
Contact RNA Medical
7 Jackson Rd
Devens, MA 01434 USA
Sales: (800) 533-6162
Phone: (978) 772-9070
Fax: (978) 598-7918
---
LeadCare II® CLIA-Waived LeadCare® II Point-of-Care system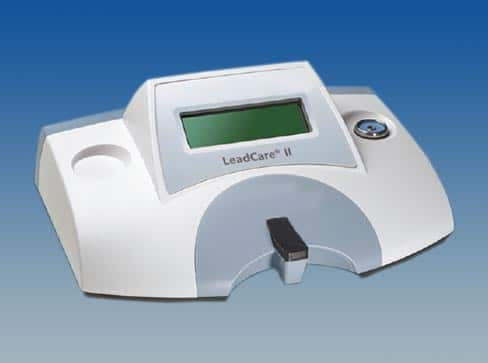 RNA Medical is a division of Bionostics, Inc. - maker of Magellans LeadCare II quality control materials. RNA Medical representatives are factory trained distributors of the LeadCare II analyzer, test kit and other Magellan products, and are available for demonstrations and reimbursement information assistance. The worlds only CLIA-waived blood-lead analyzer, LeadCare II improves clinical outcomes and is ideal for the physician or pediatric office, health clinic, Point-of-Care Testing, outreach screening programs and veterinary applications. No other system offers the simplicity, accuracy, and immediacy of the LeadCare II. Safe, fast, easy, and inexpensive to use, Magellan developed LeadCare II with a grant from the U.S. Centers for Disease Control. No more waiting days for expensive lab analysis, or worrying about losing track of a child that needs follow-up care. LeadCare II delivers quantitative lead levels equivalent to those reported by outside laboratories in just three minutes. It improves patient care by providing on-the-spot results, cuts your staffs result-tracking and administrative time, and qualifies for reimbursement as a quantitative blood lead test (CPT code: 83655). The LeadCare II Analyzer Kit contains the Analyzer and training materials.

Looking for a full suite of whole blood Hematology controls and calibrators for hospitals and clinical laboratories? If so, please visit
R&D Systems
for a full range of products available to meet your needs!
---
Contact RNA Medical
7 Jackson Rd
Devens, MA 01434 USA
Sales: (800) 533-6162
Phone: (978) 772-9070
Fax: (978) 598-7918
---
Quick Specs
Point-of-care results in just 3 minutes - eliminates multiple visits
Simple to operate - no special training required
Capillary samples (2 drops, 50 μL) - easier for patient, parent, and staff
Accuracy and sensitivity you can count on - comparable to reference lab tests
Reimbursable - CPT code: 83655; per-test cost typically less than a reference-lab test
---
---
---